Dig Deeper Into Types of Cams With New Webcam Tag Filters
CamSoda is always adding new features for users to get more from our site. We recently added a new feature to the website allowing users to dig deeper into types of cams with new webcam tag filters. These filters give you a more custom ability to filter down cams to exactly what you're looking for.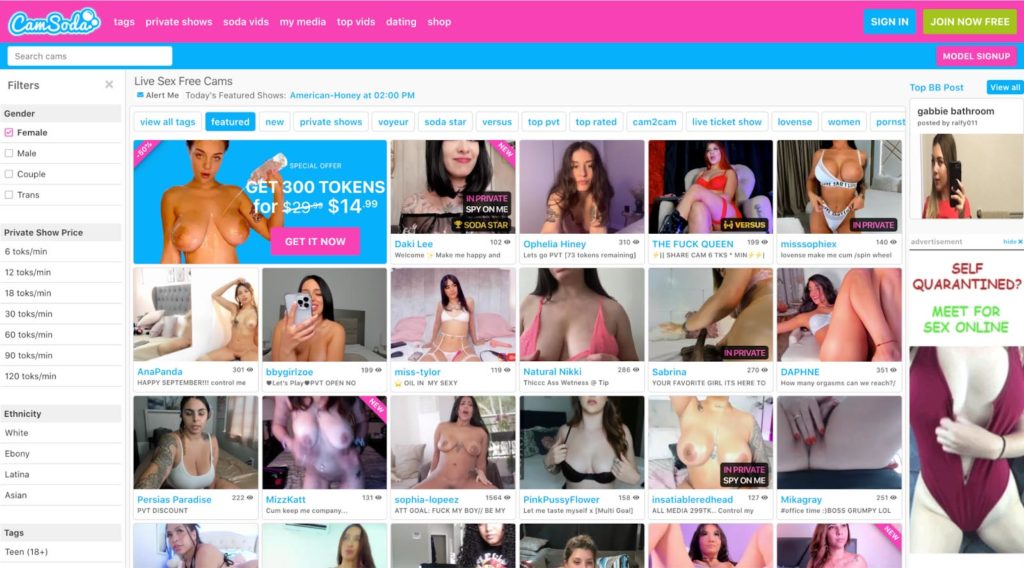 camsoda-webcam-homepage
Take a look below to learn more about the new advanced filter feature for webcam tags, how to use them, and examples of what you can now find using these cam filters on CamSoda.
What is the new filter feature for webcam tags?
Before the new advanced webcam tag filters, users were able to navigate the CamSoda site using high-level cam filters on the left side of the screen. These allow you to customize your search results using six major categories:
Gender (female, male, couple, or trans)
Private show price
Ethnicity
Tags
Languages
Region
The new webcam tag filters being introduced lets you dig deeper into types of cams with more control over what you see. For example, instead of just filtering your cam search to ebony females, you can now focus your search even better with additional webcam tag filters for that category like "new ebony" and "ebony teen (18+)."
These advanced tag filters show up automatically when you choose your preferred selections from the main list on the left side of CamSoda, showing you new options so you don't have to scroll through cam models that don't fit what you're looking for. They get you right to the types of cams you want faster and give you options you might not have looked into before. It's an opportunity to explore new cam models and find new favorites, too.
How to use filters to drill down deeper into cams
When you get to the CamSoda website, you might have an idea in mind of what you want to see. Before now, you had the option to filter your search to high-level categories and scroll through them to find the right cam model for you. Now, the introduction of advanced webcam tag filters on CamSoda lets you drill deeper into cams and find your perfect cam girl faster.
Where to find the new webcam tag filters
Start by selecting female at the top left of the website. Then look below to find the categories for filtering cam girls by private show price, ethnicity, tags, languages, and region.
Click any of the filters under "Ethnicity" or "Tags" in order to bring up the list of new webcam tag filters that let you search deeper into cams with ease.
camsoda-webcam-tag-filters
The new webcam tag filters are located across the top of the search results in white boxes and you can click through them to find exactly what you want.
To help you become more familiar with the new webcam tag filters available on CamSoda, we're exploring additional tag filters for these selections:
Ebony cams
BBW cams
Squirt cams
Big tits cams
Latina cams
Teen (18+) cams
Examples of webcam tag filters to explore
CamSoda webcam tag filters make it easy for you to find the cam girl you want to watch every time you visit the site. They make navigating our webcam models simple and intuitive. In order to give you an even better experience, we've now released new webcam tag filters to dig deeper into different types of cams to drill down your search even further.
Take a look below to see how we've expanded how you search your favorite categories with new webcam tag filters.
Filters for Ebony Cams
The CamSoda ebony cams tag filter shows you the most beautiful and voluptuous ebony cam girls on the internet. We've got every kind of ebony enchantress from skinny women and teens (18+) to BBW and milfs. The ebony cams tag filter has been expanded to include:
New ebony
Ebony teen (18+)
Ebony milf
Ebony skinny
Ebony bbw
Ebony big tits
No matter what kind of ebony woman you want, she's live on our site. Two of the most popular cam girls in our ebony category are The Asian Kitty and Maliasav.
The Asian Kitty is exactly what you've been needing in life. She describes herself as a freak who never tells you know and her enticing, beautiful slim thick body is out of this world. Not only does she show off for you on cam, but you can also choose to have her make you a custom video to enjoy.
Maliasav is a thick ebony beauty with 36K breasts. This college student says she gives the same energy she receives and performs best when men are talkative in her chat.
Filters for BBW Cams
The BBW category on CamSoda has over 19,000 cams to choose from. You have always been able to sort our BBW cams in numerous ways including languages spoken and region, but now our new webcam tag filters give you the chance to drill down your search even more to show you exactly who you want to see.
Our new CamSoda BBW webcam tag filters have expanded to include:
New BBW
BBW teen (18+)
BBW milf
BBW Latina
Big tit BBW
BBW pornstar
With these new categories, you can easily find some of the top BBW cam models like vanessasky222 and LovelyFreaky.
Vanessasky222 is a curvy thick cam model with big tits and ass. She's always up for a great time and is bringing back her shower shows, a fan favorite. Choosing the Big tit BBW tag filter can also bring you to LovelyFreaky, a beautifully curvy girl with enormous 38 DDD tits that she loves to show off for her viewers.
Filters for Squirt Cams
The squirt cams filter on CamSoda takes you to cam girls with extra special orgasms. Users who want to view streams from the Squirt category on CamSoda can now drill down your search more, as well, to these additional tag filters:
New squirt
Squirting teen (18+)
Squirting milf
Squirting Latina
Squirting BBW
Big tit squirting
Sure Cakes and Anahifox are some of the top performers for this cam girl category. Sure Cakes has an incredible body with perky tits and an ass that won't quit. Anahifox speaks English and Spanish while showing off her small waist and huge tits (with very sexy nipple piercings).
Filters for Big Tits Cams
Are you a fan of big boobs aka big titties and live cams? Regardless of whether you want to see big natural tits, enormous juggs that hang low, or even a perky pair of fake boobs, CamSoda big tits cams have it all.
With our new feature rolling out, we've now expanded your ability to search the big tits cams category with these webcam tag filters:
New big tits
Big tit teen (18+)
Big tit milfs
Big tit Latinas
Ebony big tits
Big tit pornstars
The big tit cam girls are some of the favorites on CamSoda. Our new expanded webcam tag filters will bring you the incredible Cata Ruiz and Jossie-Jacobs.
Cata Ruiz is a Latina vixen from Columbia with a sexy body and incredible big tits. She's extremely passionate, loves to stay fit, and has an option for you to get custom content. Jossie-Jacobs loves to entertain and connect with people from all over the world. Her skinny body and huge tits make her everyone's fantasy.
Filters for Latina Cams
The CamSoda Latina cams filter shows some of the most beautiful women on the planet from places like Brazil, Colombia, Mexico, and Costa Rica. Sensual and sexy is part of their culture. With the new webcam tag filters we've rolled out, you can now drill down your search for your favorite Latina cam girl to include these categories:
New Latinas
Teen (18+) Latinas
Milf Latinas
Skinny Latinas
BBW Latinas
Big tit Latinas
Two of the standout performers in the Latina cams category on CamSoda are Yettza and Angie McQueen.
Yettza is a Latina beauty on CamSoda and based in Columbia, showing off her athletic body and giving you an entire sexy menu to choose from when sending her tips. She has a variety of toys and machines ready to go at any time.
Angie McQueen is located in Bogotá, Columbia, making her another sexy Columbian for you to interact with. Her perfect body and perky tits make it a pleasure watching her masturbate or play on cam for you.
Filters for Teen Cams (18+)
It's no surprise that CamSoda is the 18+ teen cams site. The girls in this category have set up voyeur cams in their homes to perform for you and take you over the edge. We wanted to expand your ability to find the perfect 18+ teen cam girl for you, so we've added these new webcam tag filters:
New teen (18+)
Latina teen (18+)
Ebony teen (18+)
Big tit teen (18+)
Skinny teen (18+)
BBW teen (18+)
Many of the 18+ teen girls on our website become top porn stars after they've perfected making homemade sex videos for you. Two of those top 18+ teen porn performers are Adalline and Oren Ishii.
Adalline is an Eastern European skinny teen (18+) with big boobs and endless sex drive. She puts on incredible shows and will drive you wild playing with her toys. Oren Ishii is a definite favorite on our website, not only showing up in the teen cams (18+) category but also being part of the CamSoda Casa Salsa live reality show. Half Asian and half Colombian, this fiery bombshell loves to be pampered and is very passionate.
The new webcam tag filters at CamSoda help you dig deeper into types of cams and find the perfect cam model for you. These new tag filters help you navigate the site more easily than ever before so you can spend less time scrolling and more time exploring and engaging with your new favorite livestreams!